Warwick Valley High School senior, Kamaal Cenot, spent part of his summer vacation participating in the job shadow program at Mechanical Rubber in Warwick. His interest in engineering led him to pursue an opportunity with the company, to help determine whether engineering is the right fit for him.
"The experience is helping a lot," said Cenot, who is currently looking to attend SUNY Maritime, Binghamton or Stony Brook. "It's helping me to know what to expect. Seeing the real-life application is pretty cool."
Cenot, who also plays Varsity Basketball for the Wildcats, has spent two days each week for the month of August working in various departments at Mechanical Rubber, learning many different aspects of the engineering field.
"Kamaal is a very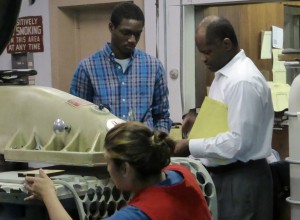 responsive student," said Gary Lyon who works in Mechanical Rubber's Quality Control department. "He was already familiar with some tools of the trade; Warwick Valley High School taught him that. With that foundation, we were able to expand and teach him how different tools work for different applications and companies. One day he learned how we make tubing. He was able to experience every step of the process from warm up to measurement to curing. Mostly, he learned that wherever you go, you need to be able to multi-task. In today's society, very few people sit in an office and do one task. You have to be flexible."
In the lab, he got to work with the company's chemist, Chris Lingle, a Warwick Valley High School and SUNY Binghamton graduate. "We went over all the aspects of testing to the ASTM (American Society for Testing and Materials), basic testing and even into some full testing of the properties of rubber material," said Lingle. "Kamaal is a smart individual; definitely very driven." Lingle participated in an internship himself while a student at Warwick Valley. "It's a great experience. You get real-life experience and it looks good on college applications and resumes."
"Kamaal is interested in Electrical Engineering," said Ralph Hempel, who is responsible for all the machine and building maintenance. "When he worked with me, a piece of equipment was down, so the timing was perfect. We were able to review electrical schematics, trouble-shoot and repair the machine. It was a good experience for him to be able to fix older technology. A lot of what they learn in school involves new technology. That's not always the case in company's that have been around for 75 years."
"I always wanted Kamaal to get a first-hand experience," said his mother, Cecelia Cenot. "I wanted him to see the business up close, before making a final decision. I would love to see more students take advantage of such opportunities."
"Mechanical Rubber realizes that a company is more than its product," said Cedric Glasper. "It's also about its people and its community. We have the ability, as well as the responsibility, to offer our youth experience outside of the classroom and welcome it. It has been a pleasure having Kamaal join us for the summer and we are certain he has a bright future ahead of him."
In addition to a job shadow program, Mechanical Rubber also offers an internship program. Applications are available on the Resources page at mechanicalrubber.com.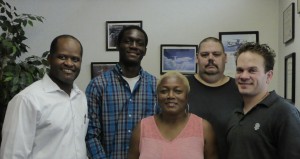 Mechanical Rubber President and CEO Cedric Glasper with WVHS senior Kamaal Cenot and Cecelia Cenot with Plant Engineer Ralph Hempel and Gary Lyon from Quality Control.
Share This Story, Choose Your Platform!