Cedric Glasper, President/CEO of Mechanical Rubber joined manufacturers from all over New York State for the 2017 Manufacturers Lobby Day in Albany on March 1st.
Event participants had the opportunity to address specific policy issues, such as Workers Compensation and Regulation, Taxes and Economic Development, Workforce Development, and Energy with state legislators.
Glasper was part of the Taxes/Economic Development group that discussed raising Real Property Tax Credits for manufacturers from 20% to 100%, which would provide $200 million in tax relief to NYS manufacturers annually; moving the implementation of Start Up New York to an existing economic development organization; as well as requiring New York State 'Buy American' contracts to source in-state manufacturers first.
"It was a very successful event," commented Glasper. "I am very optimistic about the future of manufacturing in New York State."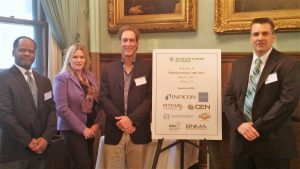 Mechanical Rubber President/CEO, Cedric Glasper (from left) joined Vits International CEO Deirdre Ryder, Package Pavement Corp President Darren Doherty and Schatz Bearing Corp CFO Brad Euker.
Share This Story, Choose Your Platform!