Two local college students, J. Casey Burley and Daniel Stachelek participated in the Mechanical Rubber internship program this summer.
Casey, a 2014 graduate of Warwick Valley High School is currently a senior at the University of Rhode Island where he is majoring in Journalism. Last year, a friend referred him for a job working in the plant, but he was invited back this summer to work in the administrative offices. Reporting to Alisa Sherow in the Quality Department, Casey is responsible for order processing, invoicing, organization and customer support. He hopes after graduation to work for a big magazine in New York City, where the knowledge of working in an office is sure to come in handy. In Warwick, Casey ran track and field for the Wildcats.
"Casey is an excellent worker," commented Sherow. "His work is consistently accurate. He has afforded me time to concentrate on projects that I haven't had time to work on in months. He is an asset and I'll hate to see him leave at the end of the summer."
Dan is entering his sophomore year at Central Connecticut State University, where he is majoring in Mechanical Engineering Technology. A resident of Tuxedo, Dan graduated from Burke Catholic in 2016, is a power-lifter and snowboarder, who wrestled, played football and ran track in high school. He hopes to work in the Aerospace field for a big Aerospace company like Sikorsky or Northrop Grumman, so Mechanical Rubber was a great fit for him. He began his search for internships when still in school, hoping to find something close to home, when he came upon the offering from Mechanical Rubber. "There is a lot of in-depth work here," he commented. "The work with the machines is great, because I don't plan to be sitting in an office designing." Dan rotates during his time at Mechanical Rubber, working in manufacturing, quality, lab and maintenance. With the intricacies of manufacturing for the Aerospace industry, the hands-on experience should prove to be invaluable for Dan's future and he has already asked if he can come back to the company when he's off from school.
"Dan is a hard worker who isn't afraid to get his hands dirty," said Johnine VanBeers, Production Planner. "He is a quick learner. I'll tell him to do something and he does it, no questions asked. Dan's a good kid. He's learned a lot already and has been beneficial to our plant."
"I am excited to be able to offer quality hands-on experience to college students through our internship program," commented Cedric Glasper, President and CEO of Mechanical Rubber. "I've always been a supporter of education and believe that coupled with work experience, internships are a great way to build a stronger workforce. We've been lucky to have two excellent interns this summer and look forward to the ones we'll meet as we go forward."
Applications for internships are available on the RESOURCES page at the company website www.mechanicalrubber.com.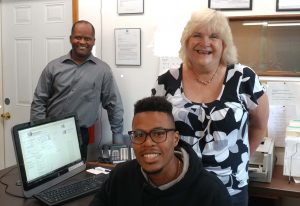 Cedric Glasper, Alisa Sherow & Casey Burley
Share This Story, Choose Your Platform!