Cedric Glasper, President/CEO of Mechanical Rubber attended a workshop on Tuesday, August 8 at Rockland Community College offered by the Metropolitan Transit Authority (MTA) Rockland Economic Development Corporation's (REDC) Procurement Technical Assistance Center (PTAC). Small business owners were invited by the MTA to come to the event to learn the ins and outs of doing business with Metro North Railroad.
Scheduled seminars included a small business mentoring program, MNR Discretionary Award opportunities as well as new and emerging contractors, and opportunities for disadvantaged small businesses.
"I learned a lot at this event," stated Glasper. "The transit industry in New York State is growing and I look forward to the business opportunities present for Mechanical Rubber."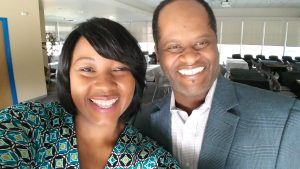 Mechanical Rubber President/CEO, Cedric Glasper (right) met with Metro North Railroad Compliance Manager, Christine Norman during an MTA workshop geared to assist small businesses in working with Metro North.
Share This Story, Choose Your Platform!