As the summer draws to a close, Mechanical Rubber will say goodbye to another one of its summer interns, Paisley Campbell, as she returns for her senior year at SUNY Oswego where she is majoring in Technology Management. Paisley joined Mechanical Rubber in June and has spent her summer learning about the inner workings of a manufacturing company – while earning college credit.
"I learned a lot about how a company works and how everyone works together to make a product and fulfill the orders," she said. Paisley's responsibilities ran the gamut from trimming and cleaning products, to measuring parts for final quality inspection, to inventory and completing paperwork for current orders.
"Paisley was exposed to many manufacturing processes," said Gary Lyon in the Quality Control department, "where she picked up the job quickly and was definitely an asset during her time here."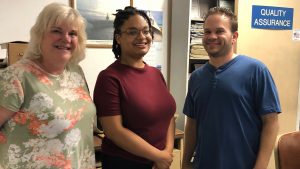 "After completing her time working in the factory, Paisley came into the office to work with me," said Alisa Sherow in the Compliance department. She worked on production and efficiency spreadsheets while learning about the processes behind a lot of systems and quality certifications that Mechanical Rubber has earned. In this capacity, she was also able to see how everyone plays a key element in the order process.
Reputation is critical to any company. A key element to Mechanical Rubber's efforts for Continual Improvement is to compile results from our annual Customer Satisfaction survey. "Paisley took ownership of this year's program by contacting all qualifying customers with a web link to the survey," said Lisa Rice in the Sales / Marketing department. "She compiled the results, and handled follow up. It's a time-consuming and tedious project, but one that is very important. I feel it was a good opportunity for her to see how important it is to have communication, not only with those you work with, but also with those you work for."
"We are happy to open the doors of the company to young, vibrant minds. At Mechanical, we've been running a summer internship program for years, as well as providing job shadowing opportunities for high school seniors. For graduates who may seek a non-college path, we offer apprenticeships that put them right into the workforce. Being a business owner in a small community, I feel everyone has a responsibility to help the next generation thrive and grow. It's truly been a pleasure having Paisley join us this summer and we wish her well in her future endeavors," said President / CEO Cedric Glasper.
Heading back a few weeks early for RA (Residential Assistant) training, the SS Seward alum will also be saying a sad goodbye to the newest addition of her family, a cat named Sesame that her parents adopted while she was away last year. When she graduates from Oswego in May 2020, it is Paisley's intention to work as a product designer, potentially starting her own virtual company that she can operate from home or anywhere her path takes her.
For more information on the Mechanical Rubber internship program, visit https://www.mechanicalrubber.com/internship/
Share This Story, Choose Your Platform!